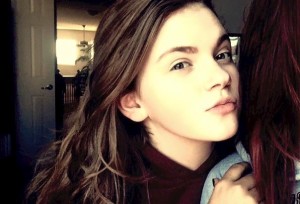 To hear featured track (highlighted in yellow) click on 'play' icon above. To hear next track click on fast forward and for previous, click rewind.
See her studio performance vid HERE
Samantha "Samm" Smith is a 16 year old singer and songwriter residing in Western Canada. When she was age 11 she auditioned for Canada's Got Talent, the judges were blown away by her singing ability and wanted her to go on to the next round of auditions. That was until they found out her age, unfortunately there was an age limit of 13 and older. This small set back didn't shatter Samm's dreams and she continued her journey in music. In 2012 Samm took part in the Alberta Harvest Festival, she ended up winning in not just the under 13 category but also the over 13 category as she was given a chance to compete with the adults. The prizes for both were appearances on a very popular radio station whee she began to gather a large and very loyal following.
At age 14 Samm auditioned for NBC's "The Voice", it seems they had caught wind of Samm's musical talents after hearing a performance of an Ed Sheeran song, however her dreams were dashed again as she was only 14 and needed to be 15 to move on in the show. The day after her 15th birthday she received a call, it was from "The Voice", they requested that Samm come down to LA and audition since she had finally reached the required age. At the audition she was the only person out of her group of 2000 to be selected for a callback.

Buy "Seven Wonders"  HERE
Buy "Different" HERE
Buy "Ain't Seen Nothin Yet" HERE
Buy "MIRROR" HERE
Buy "Kings And Queens" HERE
From Canadian Broadcasting Corporation 2/20/16:
"A teenager from a small town in Southern Alberta has just had the most important audition of her budding musical career, and it could land her on one of the most-watched music reality TV shows of all time. 
Samm Smith, 15, was one of the 200 hopefuls and the only Canadian invited to the final round of auditions for season 10 of NBC's hit series The Voice.
"I can't even express to you how much work went [into this], not only from me, but from my family," Smith told CBC News shortly after the audition in Los Angeles.
"I practice every day, and they had the pleasure of hearing me for five hours every day for the past seven months or so. Lucky them," she joked.
If Smith makes it through, she'll get the chance to sing to the chair-backs of four of the most influential music icons in Hollywood: Adam Levine, Christina Aguilera, Pharrell Williams and Blake Shelton."