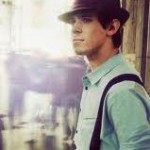 To hear featured track (highlighted in yellow) click on 'play' icon. To hear next track click on fast forward and for previous click rewind
CJ Ryan is a 23 year old singer songwriter from Los Angeles CA whose credits before age 15 already included:
The Sharon Osborne Show (interview and performance)
Brian Mcknight (signed with his management team)
NEO (co-writing)
Pink (performed on M!ssundaztood album)
CJ has continued to work in both the music and film/TV industries on many more notable projects such as  HAIRSPRAY, CAMP ROCK, HIGH SCHOOL MUSICAL WIZARDS OF WAVERLY PLACE, CARTOON NETWORK, CRIMINAL MINDS etc.
Recently, CJ was tapped to sing the theme song for the TV series "THE EXES" airing on TV LAND. He also sang backing vocals on CEE LO's upcoming Christmas album and continues to sing background vocals for the smash TV series "GLEE"
CJ's voice is a mix of classic Motown with an edgy modern take. His fusion of soul, funk, pop, R&B and urban sets him far apart from the crowd and we think you'll agree, this is definitely someone to watch!