To hear featured track (highlighted in yellow) click on 'play' icon.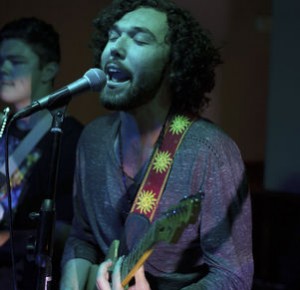 Whether you've heard his music on iTunes or SoundCloud, there's no denying Peter Schrupp has amazing talent.
Growing up in San Diego, this 19 year old wasn't interested in music much at all until his mother bought him a guitar at the age of 12, and he hasn't looked back since.
Peter wrote his first song at age 14, and reflecting on it he says, "it was the worst song ever. I never want to hear it again!"
Yet, despite that rocky beginning to songwriting, he started a band called Make It Last Kid, his freshman year, with two other musicians from his high school. Their first big gig was Battle of the Bands in Carlsbad, which they ended up winning. This win enabled them to record a couple songs with a record company, and gave Peter the opportunity to see into how the music business really works. "We started playing shows all around San Diego after Battle of the Bands and trying to establish a name for ourselves," Peter says, reflecting on the success of his first band.
Moving onto LMU in Los Angeles after high school, it was possible for Peter to start performing solo and write even more of his own music. He says he pulls inspiration for his writing from pretty much everywhere: "usually what I try to write is something similar to whoever I've recently been listening to, but it never really ends up sounding much like other musicians at all," Peter says laughing.
Schrupp is able to put his own spin on his songs, which is what makes his unique sound so enchanting. Whether he is covering another artist's music, or performing an original song, Peter's raspy voice and impressive rhythm never disappoint an audience.
Schrupp says his favorite part about performing is interacting with the crowd, "I love to have fun with the audience." He always wants it to be an entertaining show where he's engaging the crowd as he goes, rather than just performing the entire time.
Even though Peter currently performs on his own, you might see him with a few band members in the near future. He says he misses collaborating with other artists and may be looking to start a new group.
We can only imagine Peter's amazing sound combined with other artists'…heaven to our ears, and definitely something to look forward to!