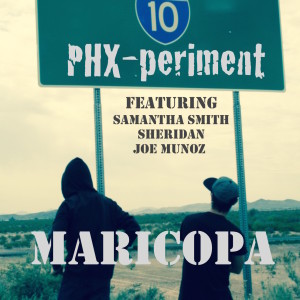 To hear featured track (highlighted in yellow) click on 'play' icon above. To hear next track click on fast forward and for previous, click rewind.
"MARICOPA" by PHX-periment
is a collaborative project, originally an 'experiment' featuring the talents of various Los Angeles based producers and Phoenix (PHX) rap freestyler JAWA, therefore the name.
This EP is the follow up to the original 2014 recording and features newcomers Samantha Smith (that singing show on NBC) and American Idol top 20 contestant Joe Munoz along with a return engagement from the very talented Sheridan! This new 5 song package blends uptempo club with explosive rap and sizzling hip hop accompanied by sensational verses and hooks sung by some of music's newest and freshest voices! Emanating from the underground of Maricopa County, this is the "PHX-periment".
Available at itunes HERE